"I really appreciate being a part of this programme. It is fantastic"
We at Sealey Associates, along with our partners the Universities Policy Engagement Network (UPEN*), were delighted to be commissioned by the Economic and Social Research Council (ESRC) in October 2021 to design and deliver their pilot professional development programme for ESRC-funded postdoctoral fellows. Via the pilot, the ESRC is giving a group of 30 postdoctoral fellowship award holders the opportunity to develop their leadership and policy engagement skills.
In response to recommendations from the ESRC-commissioned reports Fit for the Future and the PhD review, the council is expanding and enhancing the support it offers to early career researchers. The ESRC Postdoctoral Fellows Development Programme is a part of that endeavour.
We've enjoyed collaborating with the ESRC's first cohort of fellows and, as we ready ourselves to return from the summer break, it seems a good time to reflect on the successes and insights from the programme so far.
About Us
Sealey Associates delivers coaching and training programmes which support academics to create networks, collaborations and partnerships that enhance their research and their careers. Higher education research and knowledge exchange expert Dr Bridget Sealey has worked closely with the ESRC to develop and lead the delivery of the programme, along with our partner UPEN and our collaborators, policy engagement specialists Rebecca Asher and Emily Jesper-Mir. The programme has drawn on external expertise too, linking with specialists from organisations as diverse as the Department for Levelling Up, Housing and Communities (DLUHC), the African Institute for Development Policy (AFIDEP), Genomics England, European Cooperation in Science and Technology (COST), the Education Policy Institute, and SAGE academic publishers – more on this below.
Our tailored approach
The Fit for the Future report called for 'a more strategic, inclusive and ambitious approach to research leadership'. This programme is a direct response to the report's recommendations and offers a learning experience that helps fellows to develop collaborative leadership skills and across disciplinary, organisational and professional boundaries. Critically, the programme is also driven by the needs that early career researchers (ECRs) themselves identified as vital components for long-term careers in the report and in the PhD review. The programme involves a mixture of individual coaching sessions, mentorship, workshops, networking opportunities and seed funding. Elements such as peer-to-peer mentoring and invitations to expert speakers have been especially tailored to reflect the interests of the participating fellows. The programme has helped them to develop the skills essential for leadership, to build their knowledge of the policy landscape, andto understand how to collaborate effectively with a wide range of academics and professionals.

The Professional Development Fellows (PDFs)
Together with the ESRC we recruited a cohort of 30 postdoctoral researchers from its network of Doctoral Training Partnerships, representing all four UK nations, 22 institutions, and a breadth of social science disciplines.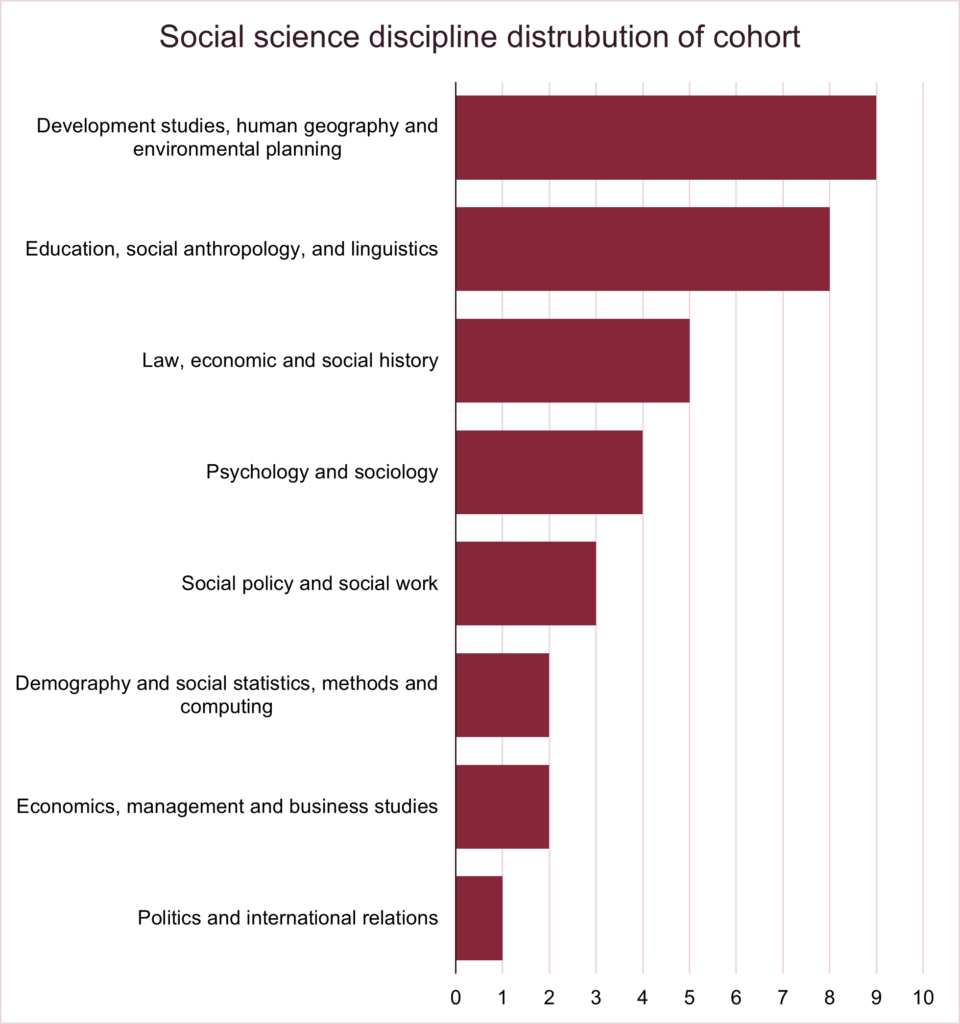 Personal and Professional Development
The programme starts and ends with individual coaching sessions, at which the fellows can discuss their own ambitions, share what's important to them and discuss their career development needs, as well as consider their own skills and strengths and how they can build on those through the programme.
"A trusting, confidential conversation with very practical advice and suggestions"
Throughout the year we have held online skills-focused workshops, known as Mini-Crucibles, 'mini' because a bite-sized approach makes it much easier for the fellows to fit them into their busy schedules. The crucible approach (pioneered by NESTA) aims to introduce new ways of thinking and working in an interdisciplinary context. It's great for developing a network and fostering new, and sometimes unexpected, encounters and collaborations.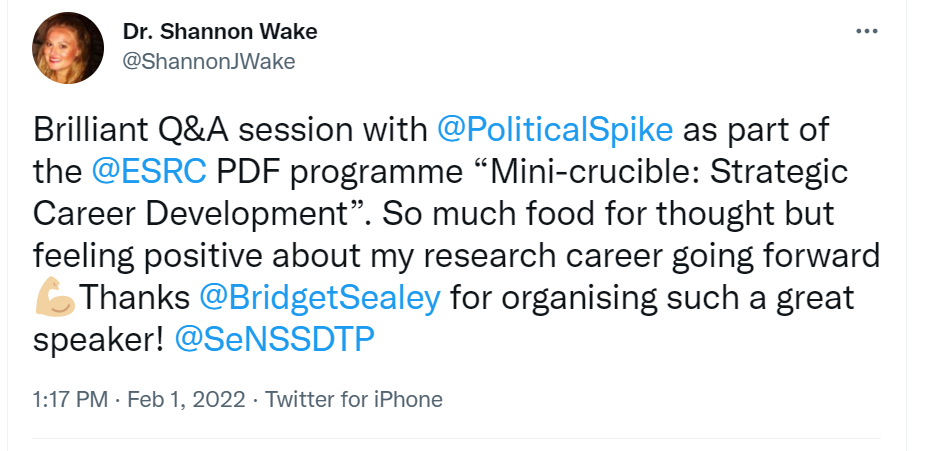 Within these mini-crucibles we've covered strategic career development, funders and funding, policy engagement, publications and communications, and networks, teams and collaborations, with a session on Parliamentary engagement to come.
"The mini-crucibles allow for gaining information but also with clear practical application"
Each mini-crucible has been supported and enhanced by Q&A sessions with an expert speaker. Our guests have included: Matthew Flinders, Professor of Politics at the University of Sheffield and current chair of UPEN; Professor Susan Banducci, Director of the University of Exeter's Q-Step research centre; government and policy expert Halima Khan; Kerry Barner, a senior publishing editor at SAGE; writer and journalist Tim Finch; and Tamsin Ford, Professor of Child and Adolescent Psychiatry at the University of Cambridge. The speakers for the final expert Q&A on parliamentary engagement will be the Rt Hon Alistair Burt, Former MP and Minister of State at the Foreign and Commonwealth Office, and Judy Laing, Professor of Mental Health Law & Policy at the University of Bristol and parliamentary academic fellow in the House of Commons Library 2021/22.
"The speaker was fantastic and provided some really useful insight and advice"
The fellows have had the opportunity for an even closer encounter with an expert in their field through peer-to-peer mentoring sessions, in which very small groups met with an expert on their chosen topic, from applying for grants to engaging with stakeholders in the Global South. All the fellows who have talked to us about these sessions have agreed that they have helped them to develop their knowledge and build confidence in the chosen topic areas. We couldn't be more grateful to our brilliant mentors: Professor Jane Elliot (University of Exeter), Professor Thomas Ormerod (University of Sussex), Professor Charlotte Clarke (University of Durham), Violet Murunga (AFIDEP), Dr Anusha Panjwani (COST/Science.Step.Switch), Whitney Crenna-Jennings (Education Policy Institute) and Dr Natalie Banner (Genomics England).
"Amazing insight … interesting stories and specific advice. Really frank and
confidence-inspiring"
Policy Challenge Workshop
A flagship part of the programme was the in-person policy challenge workshop, held in May with the support of [email protected] and the Department for Levelling Up, Housing and Communities (DLUHC). At this one-day workshop the fellows were able to meet each other – and us – in real life, bringing the cohort together in person for the first time since the ESRC launched the scheme.
The fellows spent the day working together in cross-disciplinary teams to explore how they might draw on their own and others' skills and expertise to approach one of three policy challenges set out by DLUHC. Throughout the workshop, a panel of policy experts worked with the fellows to offer them live feedback on their developing ideas. Our panel comprised experts from the UK and overseas: Jagdeep Athwal (DLUHC/BEIS), Prateek Buch (Cabinet Office's Policy Lab), Dr Chris Peters ([email protected]) and Maria Vietes Casado (CREA [Community of Research on Excellence for All] at the University of Barcelona). As this programme is about building skills as well as relationships, we were pleased that most agreed that in the workshop they were able to use the techniques and knowledge they have built through the rest of the programme.
"Wonderful experts to facilitate the day"
The day also offered the fellows an opportunity to develop bids for pump-priming funds offered by ESRC as part of this programme for collaboration on a project aiming to meet a real-life policy challenge. Two projects have now been awarded £5k each – we'll write more about these in a future post.
Building on success
While we, like the participants, will learn from the programme, we are very proud of what we've delivered. The mix and balance of activities has been very well received – as one PDF told us:
"I genuinely think having the variety is beneficial for different types of learning. Having the in-person session was wonderful but the addition of the peer to peer sessions online has also allowed for establishing relationships and networks. I would definitely say the variety adds value."
We have evaluated activities every step of the way, and as the programme has progressed we have made iterative adjustments in response to participant feedback. Having successfully delivered against the programme objectives during the first year, we are now actively planning for the second cohort starting in October. We are working with the ESRC to reflect on all the year one feedback to ensure that next steps are informed by 'what works'.
We have greatly enjoyed working with the fellows and have valued their engagement and expertise – we can't wait to see what they do next. We'll be sharing our and the fellows reflections about what they have gained from the programme later in the Autumn.
"It really has been an excellent programme so far and I am grateful for the opportunity to take part"
Further information
For more information about Sealey Associates, this programme and our other work, visit our webpages, get in touch with the team or follow @BridgetSealey on Twitter and LinkedIn.
*UPEN, the Universities Policy Engagement Network, was formed in 2018 and has since cultivated more than 100 UK Universities, all committed to increasing the impact of research on public policy. UPEN offers a dedicated contact point for policymakers and academics. Its workstreams pertain to issues in academic-policy engagement such as international knowledge exchange, best practice within universities, academic capacity building, and Equity, Diversity and Inclusion. UPEN has been supporting Sealey Associates with guidance, networks, and shared learnings.